Practice and Preparation a new landmark at Highline Extreme.
It all started a year ago. Remy Boser and me had rigged a 100 meter long highline and after 2 days of seasoning we were able to make some reasonable tries. More as a joke than anything else we thought about trying a world record. Back home I asked a farmer if I could use his field to leave a longline permanently rigged for training. It was a 210 meter long monster with two heavy lines (Slacktivity – Black/White-Webbing) taped together to make it even more difficult.
At the beginning it felt impossible, but after some time my precision increased and walking the line felt more and more peaceful and fun – almost addicting. My back pain (caused by scoliosis) that I had had for over 10 years vanished with that training and since 3 months I'm finally pain free.
Having walked that monster, I wanted to go on a longer line to see what would happen. Two weeks ago I rigged a 480 meter long midline (something in between a longline and a highline in terms of height). The feeling on the line (Slacktivity – Marathon-Webbing) was simply awesome. The line felt soft and it was easy to get into a mindstate of flow. I sessioned that line four times and every time I couldn't help but smile with all the good sensations that the line gave to me.
Trying the lines at Highline Extreme
Then the Highline Extreme meeting on the Moleson started. As the organizer, I had my mind full with planning stuff. Making sure that all the highliners had a place to sleep, enough food, a free ticket for the cable cars and getting the highlines properly set up was a challenge, but a fun one.
After a day of rigging my mind was finally free. I made my first try on the 477 meter long highline (Slacktivity – Half-Marathon-Webbing with the same backup). The beginning felt easy but after 100m there were strong dynamics in the line and it felt impossible to walk further.
Parallel to that line we had rigged a 300 meter highline (Elephant – BlueWing-Webbing with rope-backup). If somebody would walk it, it would increase the polyester world record by 90m. Nathan Paulin (F), Alex Schulz (D), Friedi Kühne (D), Oli Ross (D), Pablo Signoret (F) and others had some good tries – sometimes walking more than 100 meter without falling.
The mood of the athletes at Highline Extreme was brilliant. We are all good friends and support each other. Many of the athletes had never tried highlines of these dimensions before and were astonished how nice the lines felt.
The next day it was more foggy and I did a parallel walk with Jediah Doohan (GB) who finally seemed awake. Sight was less than 30m and after a leash fall I totally lost orientation. I didn't know to what side to walk to and had to call Jed who had also disappeared in the fog. Thanks to his voice I knew where I was again. It is an intense and scary feeling to be in the middle of such a long line with simply zero sight!
Highlining practice for new landmark
The next day turned out to be one of the craziest days in my life. After breakfast we took the cable car. There was fog all around us, but just before arriving on the top, our sight cleared up. Blue sky and warm sun was awaiting us.
Shortly afterwards, Nathan and me were queuing for the big lines. Only seconds before we started walking, we decided who goes on which line. I decided to go for the bigger one. We started walking at the exact same moment. The line felt perfect. I passed the 100 meter mark and everything felt safe. I saw Nathan besides me on the line. He had already reached the middle. 10 minutes later I had already walked 200 meters and I was in the perfect flow. The line felt great. I heard a scream of joy and applause. Nathan had just crushed the polyester highline world record!!
I shouted my congratulations and had to smile. I walked on. Still everything in peace. I reached 300m. Out of nowhere, I started struggling. I fell. I celebrated. People clapped. The moment felt perfect! A new record had just been established at the event I had put so much energy into. And I've had the run of my life on a highline. I had passed the middle of a 477 meter monster, which proved that it was possible to crush the overall world record on a polyester line!
Sliding back on the highline, I saw Nathan besides me again and the spectators asked us to make a synchro bounce session. We both bounced for what felt like an eternity. 4m up and down – simply enjoying the moment.
Then I went for a siesta and on the walk back 2 hours later I heard other yells of joy. Friedi had also crushed the 300 meter monster!!
Together with Alex, I walked to the anchor point of both lines. He wanted to take his gear back up to the restaurant. I wanted to give a last short try on the 477 meter. I stood up, started walking and felt alone. Nobody was there, but a minute later I heard the typical sound of leashrings behind me. Alex had changed his mind to give the 300 meter a try. This pushed my mood. I found the flow. 30 minutes later, I heard a cheerful yell again. Alex was the third to pass the record line!!
It was getting evening. The sky turned red. Fog was appearing and disappearing in front of me. It was beautiful. A moment of meditation. A rainbow appeared in the fog for a few seconds. What a peaceful moment!
Except for the fact that nobody had seen that I had already walked 400 meter without falling. How would it sound if I came up to the restaurant to tell the others that I had walked the line? Ridiculous! Whatever… I was not walking this line for others, but simply for the great feeling of being out in nature and having magic moments.
But then I heard the sound of a drone. Somebody was filming my send. 30 meters before the end my heel got stuck in my trousers. I was walking on my toes with one foot or pulling my trousers up with one hand – shortly having only one arm to balance… I did three steps on my toes, and I realised that I wouldn't reach the end like this. So I grabbed my pants to pull them up. I was out of balance for a little moment, but I recovered. 3 minutes later I sat down in total control close to the anchor point.
1350 steps I had counted before I reached the end. I yelled, looked around and saw one of the most beautiful sunsets with a sea of clouds just below me.
When I returned to the restaurant, everybody was just so stoked of what happened that day. We celebrated 5 world records (Sarah Rixham had set the girls highline world record to 122m on Slacktivity – RedTube-Webbing) and there were many more personal bests. As a community we had taken a step forward into the unknown. And the unknown felt great. It felt like it has to be repeated. Soon!
A big thank you goes out to one of the main organizers, Claude Gendre from Une Bonne Idee. Further thanks to our hotel, restaurants, cable car and beer sponsor. Lastly, I want to thank all the highliners and riggers that came for the endless stoke and making the Highline Extreme an unforgettable event!
Written By: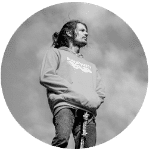 SLACKTIVITY Slacklines co-founder, managing partner and team athlete, Samuel Volery olds multiple highline world records (1900m – September 2019) and has a spectacular and versatile style when performing highline-shows.