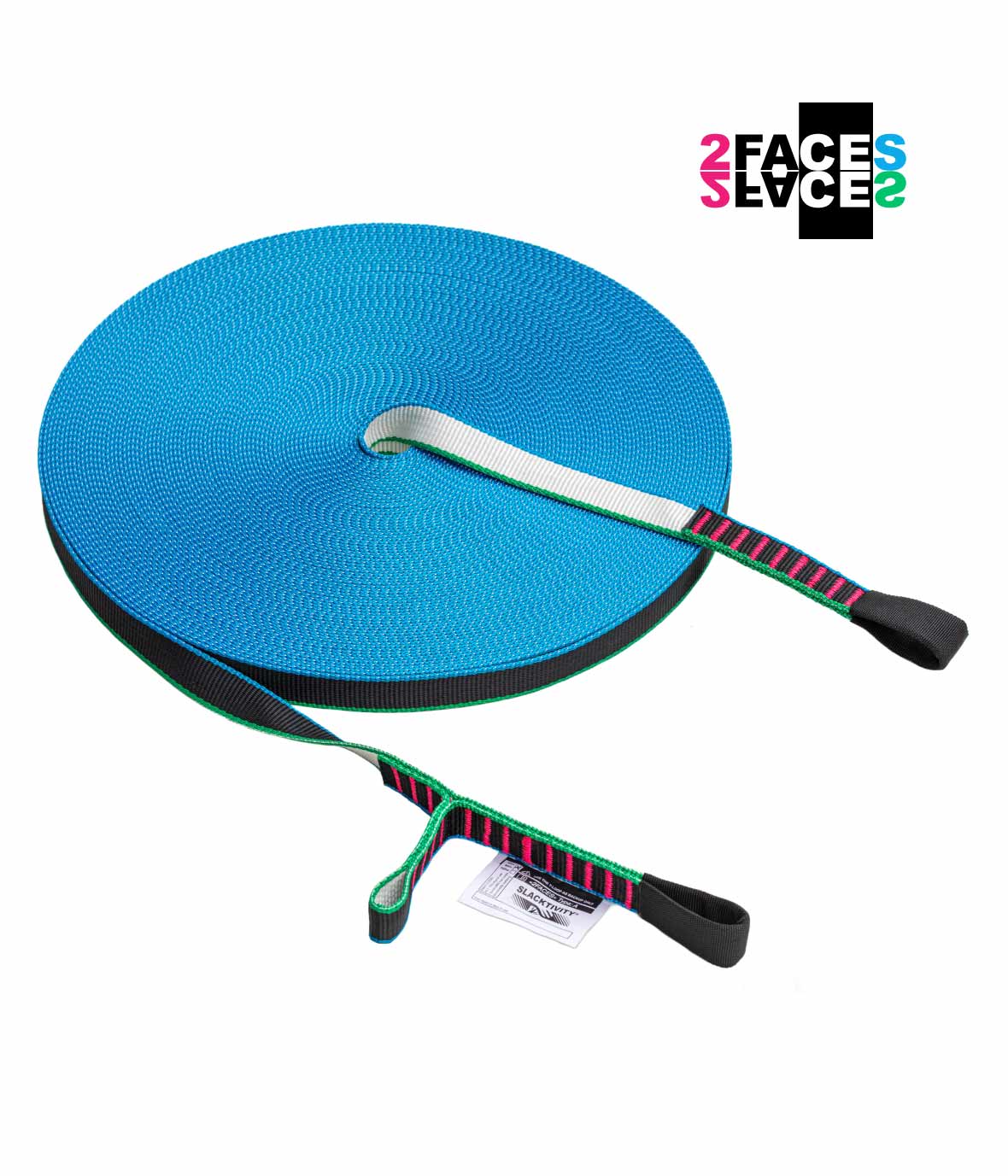 Take the playful dynamic of the polyester slackline Marathon PLAY and combine it with the unique design of the Black & White Line – et voilà: you got the 2FACES . This slackline is great to cruise longer lines back and forth in the park and to improve your longline freestyle skills on flowy combos.This polyester slackline has significantly less stretch than the pinkTube or redTube, for example. This means that it can be rigged over greater lengths in the park more easily.
The name 2FACES is not only optically significant for this slackline – both sides of the slackline webbing feel clearly different. This is because the edges of the slackline were slightly bent down so that the line on the black side is pleasantly round. As a result, this line feels very comfortable under the foot despite its light weight of only 55g/m.
To enable a simple setup, there is a sewn end loop on both sides of this polyester webbing. The slackline can be clipped directly into the tree sling with a shackle. In order to secure the sewn loop back, the T-Loop invented by SLACKTIVITY was integrated into the loop on one side of the line.
The seaHorse weblock is recommended for fixing the 2FACES . The KingPin is the best choice for attaching the sewn loops.
2FACES | Polyester Slackline Specifications
Material: polyester
Width: 26mm
Weight: 55g / m
Stretch: approx. 7.2% at 10kN, comparable to Marathon PLAY
MBS (Minimum Breaking Strength)  Webbing (Batch 2020):  23.7kN 
MBS main loop (batch 2020): 23kN (measurements: 23.7kN)
The equipment of the 2FACES
Sewn loops at both ends
T-Loop for back-up at the fixed point, integrated into the sewn loop
Unique, two-sided architecture
specially woven Webbing or an ideal surface with good grip
Informations
Orders to be shipped to non-European Union countries have a minimum value requirement of 50€.
Shipping & Returns
Check all the shipping and return conditions here. If you need assistance please contact by email to info@slacktivity.com.