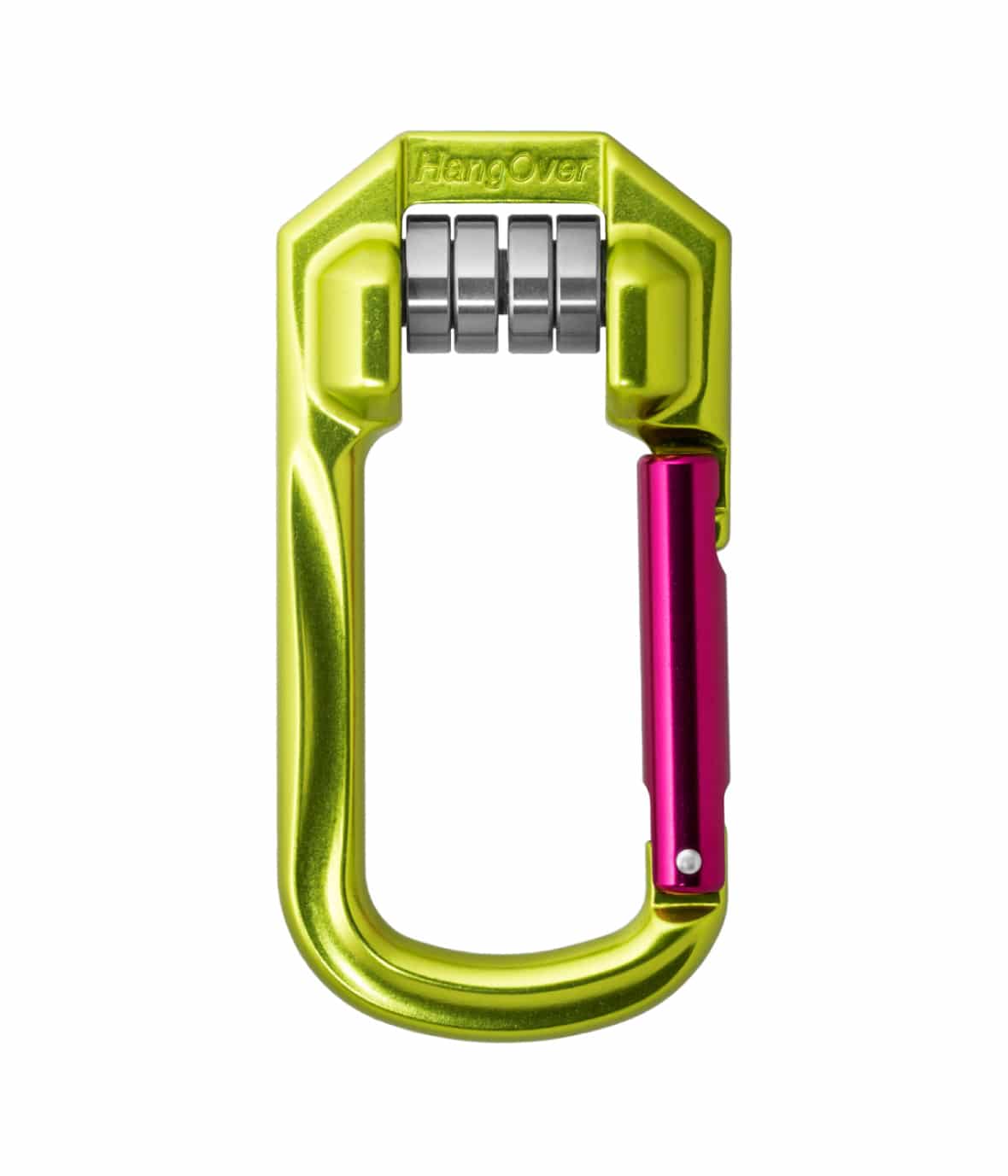 HangOver | Color-Edition
42.00€ Excl. VAT
Indispensable for any Highliner and all low weight tensioning systems (HangOver Pulley Systems). World's first Highline-specific product with PSA certification. Now with different coloured GATE
HangOver | Color-Edition
The HangOver took over a year of development, countless sketches, calculations, prototype designs and tests to develop the worlds first ball bearing carabiner. The HangOver Color-Edition, available with pink or blue gate, as the other models, can be used to tension 25mm wide slacklines or to roll along a 25mm wide slackline with hardly any friction. The HangOver has been ergonomically designed so that it is easy and intuitive to use. The HangOver has a smooth surface and smooth edges to ensure that the line can not be damaged. The line passes over four ball bearings with a total width of 27.5mm, which always keeps the HangOver straight.
Applications
Tool to roll over a highline
Multiplier in Ellington tension system/primitive system.
Build a HangOver Pulley System
Can also be used as a single pulley in for example a multiplier.
Specifications of the HangOver Color-Edition
PSA certified CE 0194
Width of the rolling surface: 27.8 mm
Minimum Breaking Strength (MBS) major axis: 22 kN
MBS open gate: 6 kN
MBS minor axis: 7 kN
Max. Working Load Limit (WLL): 4 kN
Dimensions: 124 x 62 x 28 mm
Weight: 152 g
Material: hot-forged aircraft aluminium 7075-T6, green anodized
Ball bearing: 19mm; Sealing: 2RS; Cr: 2.80 kN, Cor: 1.06 kN
pink anodized gate
The design of this product is protected by international law (registered international design- WIPO DM / 095081)
Informations
Orders to be shipped to non-European Union countries have a minimum value requirement of 50€.
Shipping & Returns
Check all the shipping and return conditions here. If you need assistance please contact by email to info@slacktivity.com.