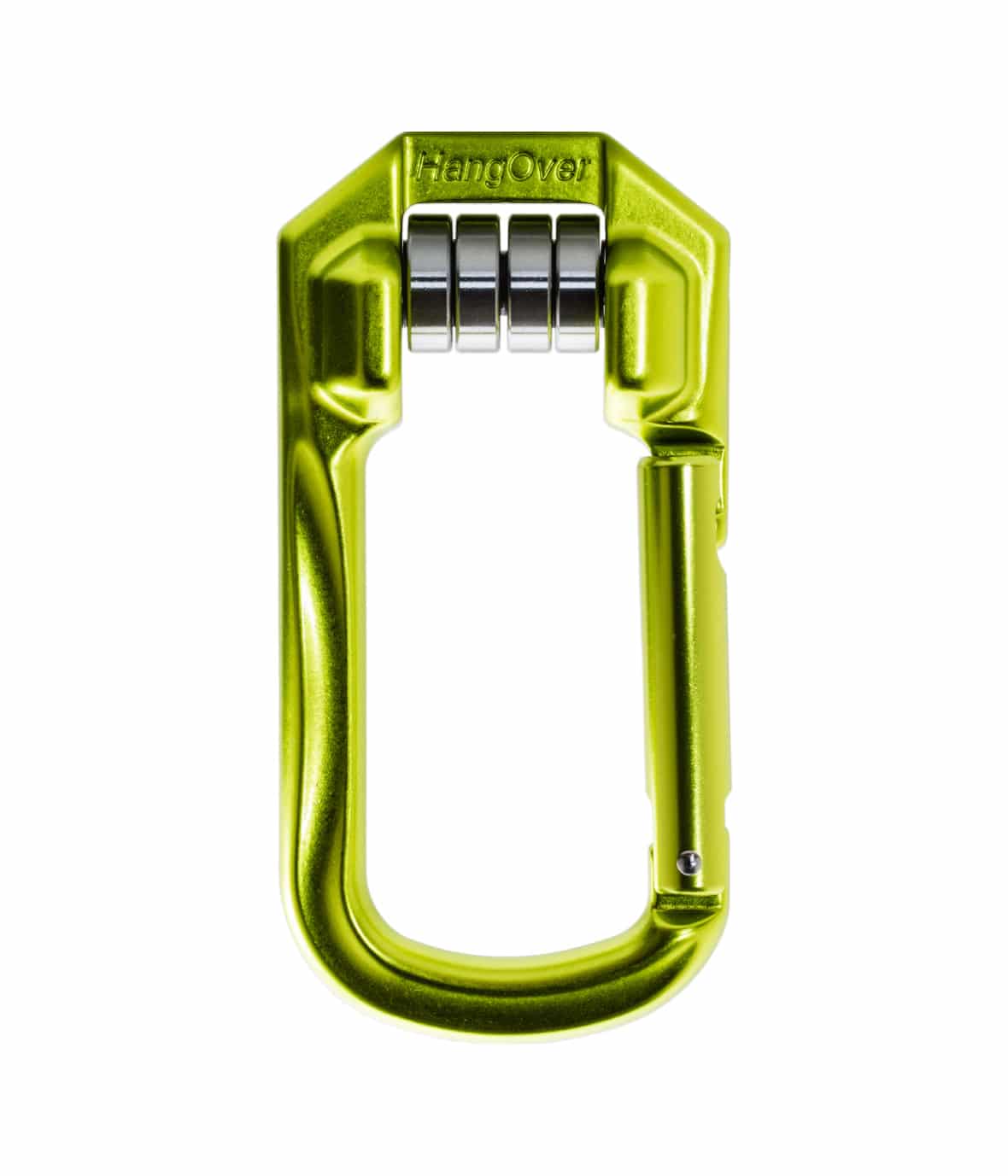 HangOver
47.00€ (Price Excl. VAT: 38.21€)
Indispensable for any Highliner and all low weight tensioning systems (HangOver Pulley Systems). World's first Highline-specific product with PSA certification.
In stock
HangOver | The Original Slackline Carabiner
The SLACKTIVITY HangOver took over a year of development, countless sketches, calculations, prototype designs and tests to develop the worlds first first ball bearing slackline carabiner. The HangOver can be used to tension 25mm wide slacklines or to roll along a 25mm wide slackline with hardly any friction. The HangOver has been ergonomically designed so that it is easy and intuitive to use. The HangOver has a smooth surface and smooth edges to ensure that the line can not be damaged. The line passes over four ball bearings with a total width of 27.5mm, which always keeps the HangOver straight.
Applications of a slackline carabiner
Tool to roll over a highline
Multiplier in Ellington tension system/primitive system.
Build a HangOver Pulley System
Can also be used as a single pulley in for example a multiplier.
Slacktivity Hangover Specifications
Width of the rolling surface: 27.8 mm
Minimum Breaking Strength (MBS) major axis: 22 kN
MBS open gate: 6 kN
MBS minor axis: 7 kN
Max. Working Load Limit (WLL): 4 kN
Dimensions: 124 x 62 x 28 mm
Weight: 152 g
Material: hot-forged aircraft aluminium 7075-T6, green anodized
Ball bearing: 19mm; Sealing: 2RS; Cr: 2.80 kN, Cor: 1.06 kN
The design of this product is protected by international law (registered international design- WIPO DM / 095081)
Informations
Orders to be shipped to non-European Union countries have a minimum value requirement of 50€.
Shipping & Returns
Check all the shipping and return conditions here. If you need assistance please contact by email to [email protected].