seaHorse Weblock
10.00€ 145.00€
The seaHorse is the world's first ISA 51 certified HighTech Highline Weblock. Made from a single piece of aluminium, has a versatile HollowCenterDiverter and a excellent PreTension-Ability. This WebLock also impresses with its low weight and, at the same time, the generous dimensioning, which allows comfortable handling (even with up to 8mm thick slackline webbing).
seaHorse 1.5: the best pretension-ability weblock with Double-Pin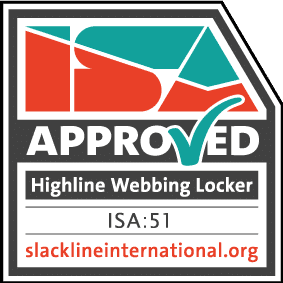 According to ISA 51 Standard, the SLACKTIVITY seaHorse is a tested and certified highline double-pin weblock.
The seaHorse is the most sophisticated weblock on the market. The new design adds versatility, new functions, and low weight. The seaHorse is forged from a single piece of aircraft aluminium, which allows it to be really strong and lightweight.
The biggest innovation is the hollow center diverter which allows a variety of soft connections. This can be really useful when building a HangOver pulley system, attaching a regular pulley system, or attaching a rope to train for highlines in the park. We even built in some grooves that keep your soft attachments in place instead of sliding up. Note: the hollow center diverter cannot be used to anchor the seahorse.
The geometry of the SLACKTIVITY seaHorse is optimized for the most efficient pretension possible. A lot of testing with a big modular plate has led to the perfect dimensions for a HangOver pulley system. To see how to create the lightest 15:1 system on the market, you can watch the video above!
The two pins are connected with a rubber connection cord which is less likely to get entangled around the pins while tensioning the line.
Specifications
Working Load Limit (WLL) 12kN, MBS:70kN
Designed for slacklines of 25-27mm wide (20mm with spacers)
ball locking pin (d=11.1mm, weight-optimized) out of high alloy, stainless steel (17-4PH)
made from aircraft aluminium 7075-T6 in SLACKTIVITY-Green
hot forged from one piece
36mm HollowCenterDiverter (HCD) works like a riggingplate!
Weight: 260g
tested and certified according to ISA 51standard
Spacers
The seaHorse spacers make this weblock suitable for 20mm webbings. They are sold in pairs as each seaHorse requires two.
Before using this equipment, you must read and understand all instructions for Use! Check the manual (PDF) on the manuals tab. And make sure to use the anti-slippage knot as explained in the manual by every rigg!
It is important to SLACKTIVITY to pass on the necessary know-how to our customers with the material they buy. That is why we make the manuals as clear, simple and visually appealing as possible. Please have a look! If you still have any questions, we are happy to help. And check out for more information on SLACKTIVITY's Youtube-Channel.
Check the video on how to use the seaHorse
Informations
Orders to be shipped to non-European Union countries have a minimum value requirement of 50€.
Shipping & Returns
Check all the shipping and return conditions here. If you need assistance please contact by email to [email protected].