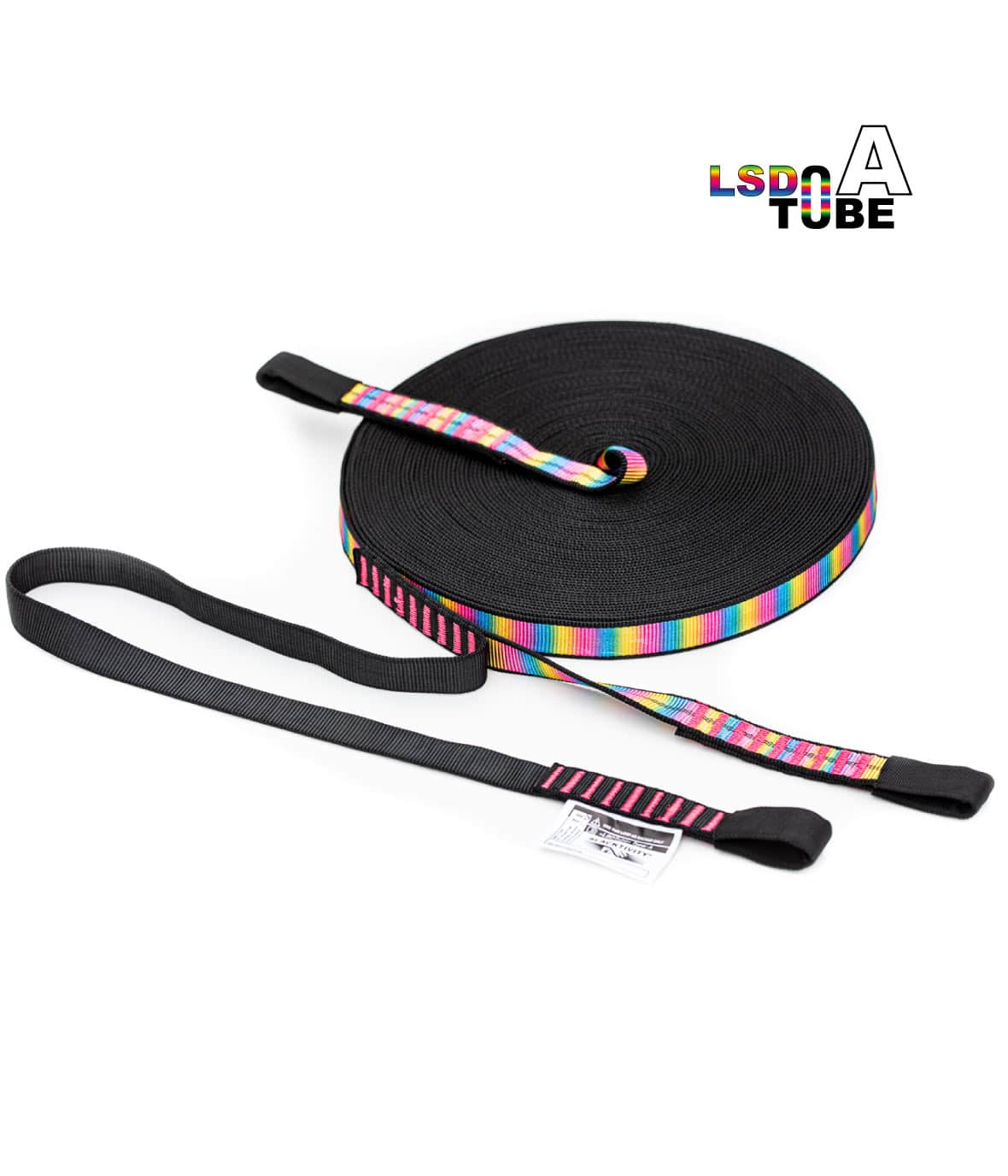 LSDTube Webbing | 30m – 80m
80.00€ 215.00€
It feels like you are walking on the rainbow with the brand new LSDTube Webbing! Guaranteed maximum playfulness, both visually and performance of the slackline. This light and stretchy slackline is multifunctional as it is ideal to let off steam creatively with hard bouncing tricks and surfing sessions or if you just want to have a relaxing session, doing meditative walks.

LSDTube: Add fun to slacklining
The LSDTube webbing is the most colorful in the slackline universe, thanks to the sublimation thermal transfer printing process. This webbing is not only visually convincing but has also a super performance. With a weight of only 49.5g/m, it is super easy to carry around, an awesome choice for  highlining or park sessions. LSDTube has pleasant walking characteristics (light webbings are easier to walk than heavy ones, because less weight is involved in the slackline system).
LSDTube is based on the most successful long / highline webbing – the PinkTube. Thus it also has an extremely high elasticity and is, therefore, a very playful webbing, perfect for bouncing, slackline yoga and surfing. Overall, the bounce feels a bit smoother as well as the surface, when comparing with the PinkTube. But after a few sessions, the webbing will get rougher which gives it more grip.
Specifications
Material: nylon tube webbing (polyamide, PA)
Width: 25.5mm
Stretch: 2.7% at 1kN, 6.3% at 2kN (most used highline tension), 8.5% at 3kN, 10.2% at 4kN (good park tension), 12.3% at 5kN, 18% at 10kN – high-stretch for big bounces and surfs
MBS webbing: 25kN (test results Batch 2020: 25.6kN, 26.0kN, 26.1kN)
MBS MainLoops: 18kN+, MBS BackupLoop: 12kN+
Weight: 54g/m
LSDTube Webbing Features
The most colorful webbing on the market with high-stretch properties
Sewn end loop for efficient assembly at both ends
BackupLoop (Version A) to additionally secure the sewn end loop
Versions
This webbing is available in classic Type A as a single webbing in lengths of 30m, 50m and 80m. The 50m and 80m versions have a T-loop in the middle, which allows highlines to be connected to a backup. In addition, all 3 lengths have a sewn end loop on both sides and an additional backup loop on one side. Caution: Only the MainLoop may be loaded directly and the BackupLoop may only be used as a backup (tie-back).
ISA certification
The LSDTube is certified by the ISA for highlining. It is essential that you have read and understood the operating instructions carefully.
Note on lifespan: LSDtube webbing must be withdrawn from highline use after 180 days of use latest. Days of use are also those days, when the webbing is simply set up, exposed to wind and weather, without anyone walking on the line. A strong loss of color happens by UV radiation. When the LSDTube has almost no color anymore and is becoming really stiff, this is a sign that it is time to stop using the webbing for highlining. Such LSDTube should also not be used for longlining with high forces anymore. We recommend to keep using such webbing for slacklines without any tension, e.g. for rodeolines in the park or in a flat.
Before using this equipment, you must read and understand all instructions for Use! Check the manual (PDF) on the "Manuals Tab"
Informations
Orders to be shipped to non-European Union countries have a minimum value requirement of 50€.
Shipping & Returns
Check all the shipping and return conditions here. If you need assistance please contact by email to [email protected].