Sale!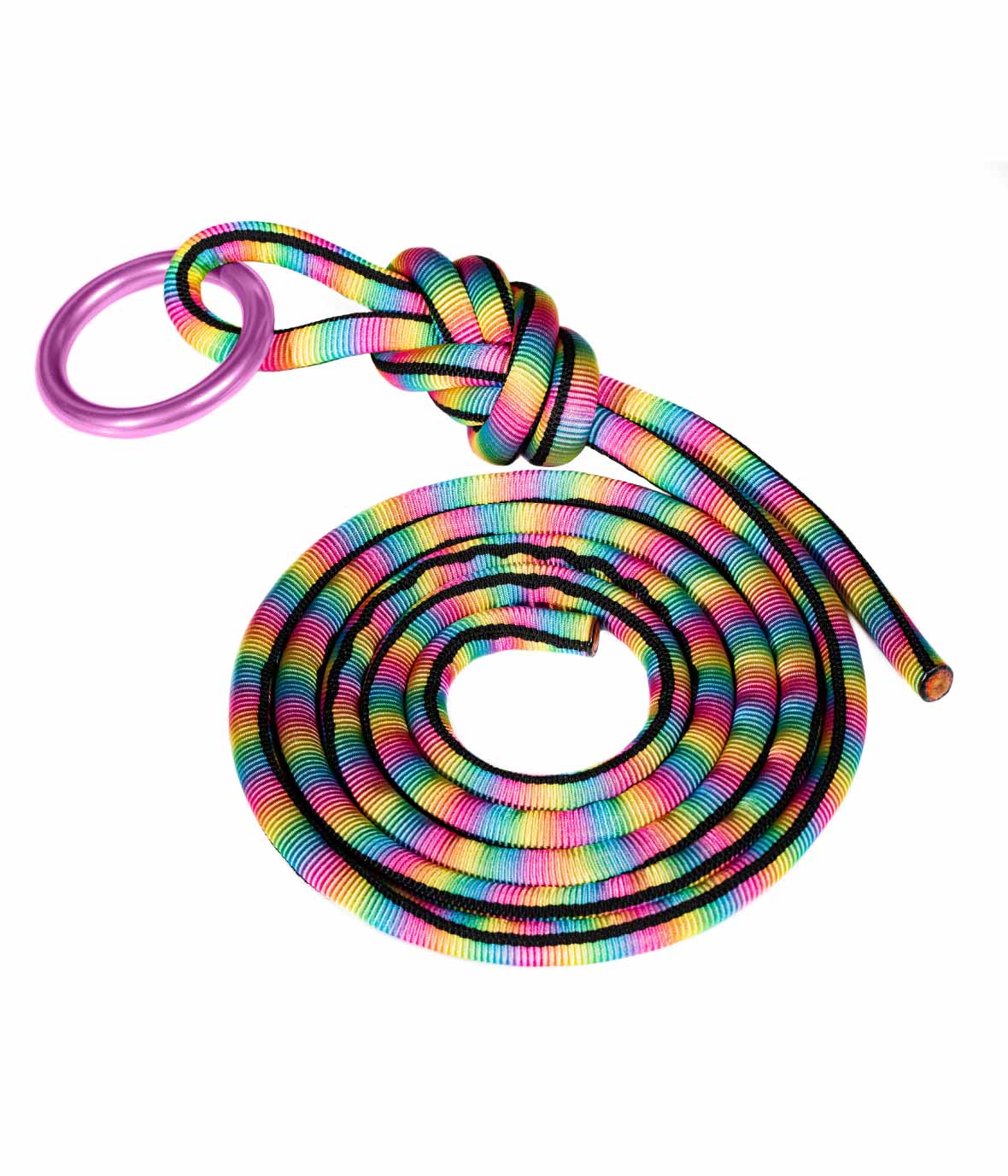 Highline Leash
44.00€ 70.00€-11% OFF
Highline Leash certified by the International Slackline Association safety standard – ISA 37, may include super-strong certified highline rings.

Highline Leash – 320cm | ISA certified
SLACKTIVITY's Highline Leash was tested according to the safety standard ISA 37, by the International Slackline Association, wich makes it the best choice for securing yourself to a highline.
A dynamic Edelrid climbing rope (Hummingbird Pro Dry 9.2mm) is threaded through a 20mm Nylon tubular webbing to create a redundant leash with a tight fit. The webbing has a soft feel to it, which makes it easy to climb after a leashfall and to untie your knot afterwards. The black edges are great for detecting twists in your Highline Leash, so that a whipper does not send you spinning around.
The length of 320cm is perfect to tie a figure-8 knot on your harness and to the leash ring, and still have sufficient length to walk without getting bothered by the leash.
The SLACKTIVITY threaded Highline Leash may or may not include one or two certified highline rings. Every single ring is preload tested to 6kN and is ISA:37 certified as well. It is lightweight, strong, and has a really smooth surface to prevent any damage to your line. Please be aware that highlining can be a dangerous activity if done incorrectly. We recommend you to learn from experts before starting by yourself.
You can choose between buying only the leash, buying with one or two rings.
Tip – one vs. two rings
Tape two rings together. Two rings glide more easily over the tapes of your highline rigg. The certified ring can be used individually on a leash but, at the moment, it is common to use two rings together. It is a matter of redundancy but from the safety perspective, with certified rings, not necessary anymore. If you still want to use 2 rings – it is recommended to tape them with electro tape together.
Highline Leash features
Breaking load Edelrid Hummingbird Pro Dry 9.2 with Figure-8: 17kN
MBS (minimum breaking load) of the aluminium ring: 39kN (note that the laser printing on the ring shows a lower incorrect number of the MBS)
9,2mm Dynamic rope Hummingbird ECO Dry – Static elongation: 6 % / Dynamic elongation: 31 %  (Certification: EN 892)
Weight of the leash and ring: 350g
Weight of the aluminium ring: 51g
Length of the leash: 320cm
Threaded with tubular webbing
Threaded by SLACKTIVITY International
Hot-forged ring made of aluminium 6061-T6 eloxated in SLACKTIVITY-green
Outer diameter ring: 80mm
Inner diameter ring: 60mm
Certified according to ISA:37 standard
Ring Padding: using our leash ring padding will protect you from harder impacts on the ring. You can either purchase them or you can 3D print them. Download the files on the Leash Ring Padding page.
Before using this equipment, you must read and understand all instructions for Use! Download the manual (PDF) on the manuals tab.
Informations
Orders to be shipped to non-European Union countries have a minimum value requirement of 50€.
Shipping & Returns
Check all the shipping and return conditions here. If you need assistance please contact by email to [email protected].