The idea was born in 2019 when I did the via ferrata up in the lovely ski resort Braunwald. There was a 100m gap between 2 peaks. Mittel Eggstock to Hinter Eggstock. Super exposed with a beautiful view. And the via ferrata was going from one peak to the other. Simply the perfect spot for an alpine highline project!!
But as we are Slacktivity, we didn't simply want to rig the highline but we wanted to make something slightly more special out of it. Why not rig a couple of lines above one another and make a beautiful pattern in the mountains? Alright, the idea was there, now we just needed permissions, a bit of support and a good team to put such a project into action.
Necessary permissions for alpine highline projects
First I needed to check whether there was any nature reserve that would prevent such a highline to take place. There was none. So next step is to check with the ski area / responsibles of the via ferrata if they would even want me to rig the line. They did – they actually really liked the idea and promised me some support! Braunwald offered me some free cable car tickets and the guys from the via ferrata allowed me to anchor some of the lines to the via ferrata which meant much less bolting.
Additionally they lent me their drill and glue-in bolts to bolt the more difficult side. Wow, it's always so nice to get support on highline projects and to have people who like what we do. A big thanks here for all the help we got!
Last but not least is the air safety permission from BAZL (Bundesamt für zivile Luftfahrt). I had to send them the exact coordinates of the highlines and depending on the height of the lines we have to pay or not and to put some parallel rope or anchor point balls. In this case the registration was free, but we had to add orange balls, visible for air plane or helicopter pilots, at each anchor point.
Once we had this permission, we were legally allowed to do the project and we just had to wait for a good weather window, which was a huge waiting time in 2021 as the summer simply never offered any stable weather.
It's astonishing and sad that even now with all those extreme weather events that are happening all over the planet, some people are still denying the climate change. Only in August the weather started improving a bit. Yeehaa, it was finally time to start!!
First day: Bolting
Leaving home at 5:30 in the mornings to catch the first cable car so we had enough time to bolt. At the cable car I met Balz who was the second highliner in the bolting team. At the top we then met Hans-Jürg from the via ferrata who gave us the necessary bolting gear and was willing to carry some of it to the spot. Now it was hiking time. First about 40 minutes hiking to the via ferrata.
From here one it started vertically with a 15m high ladder into the rocks. All secured but really tough, considering we had heavy backpacks to carry up.
Another hour later we reached the gap. There was not much time for a break, we needed to start bolting the anchor points. And the rock was pretty loose! We needed to be extremely careful to rappel down to the places with solid rock, because every now and then a person (doing the via ferrata) was passing underneath. This always meant, that we were not allowed to move for about a minute, simply for the danger of throwing down a loose rock.
In such rock, we had to use glue-in bolts. Compared to mechanical bolts they work much better in soft rock (e.g. sandstone, soft limestone). Mechanical bolts would blow up the rock and simply not hold. However, glue-in bolts need some experience when placing them. It's extremely important to clean the holes perfectly and once they are in, you need to be patient. It can take several hours (depending on the temperature) for them to dry and become solid. Therefore no highlining on the day of bolting.
The rock was so loose that we could only move really slowly and it took us 5 hours to bolt all the anchor points. Quite exhausted we started hiking back to the cable cars to go back down again to our sleeping place.
Day 2: Rigging the highlines
Early in the morning we wanted to meet at the parking lot. A team of 12 experienced highliners and efficient riggers. We distributed the gear. About 25kg for each person as we also had to carry up bivac gear, food and water. After almost 2 hours of hiking and climbing the via ferrata, we reached the place. Exactly as we've reached the top, Louise injured her foot. Nothing serious but bad enough that she could not continue on the project. One person down… The rest of the team started rigging the highlines How to rig a highline.
But many of those, who are normally extremely efficient, were not able to keep up to their usual pace. The tough approach, the extreme exposure, loose rocks, rope handling in almost vertical walls – all that slowed down the rigging speed. Walking from one anchor to the other took about 25 minutes.
On top of that, only half the team was able to carry up the sleeping gear and food. If everybody would have taken all necessary gear, it would have ended up too heavy. So half of the team had to hike down to the cable car which closed at 17:00. Not much time for rigging. The goal of the project would have been to rig 6 lines on top of one another. In the end we had to accept, that it had been too ambitious. We still managed to rig 4 highlines, which is already a great achievement, considering the alpine environment.
Day 3: Sessioning
For half of the team, the third day meant another ascent of almost 2 hours. Again with a lot of gear as they had to carry up water, camera equipment and sleeping stuff. At 10 in the morning, the entire team was ready for the first real session. 4 people on the highline. Not all of them felt comfortable with the exposure. But it was not only the exposure. The feeling of being scared adds up over time. Being in alpine environment for many hours in a row is really energy-taking.
But Tim, Tijmen, Basti and Sam are extremely strong highliners, and despite some fear, they were able to walk without falling. Meanwhile, Arne was flying the drone to get some first amazing shots of the project.
With that, we had already achieved our minimal goal. No more pressure from now on. Simply enjoying the time in the beautiful nature. Without this pressure, we were able to get some more, breathtaking shots. After a beautiful day with a lot of sunshine we were all super happy when night started to fall. A clear night with stars.
Day 4: Derigging
Alpine highline projects always end with the ungrateful job of derigging the lines. On the 4th day we were woken up by a few rain drops. Luckily it stopped raining really fast. A descent on wet rocks with heavy backpacks would not have been fun and potentially dangerous.
The team now knew the spot and had gotten used to the alpine environment. Therefore derigging went really fast. Derigging all 4 lines and packing all gear took only about 2 hours. After another hour of descending we were back and enjoyed some good local mountain food (Älplermakronen). After that, it was time to wash off our sweat in an ice cold creek back down in the valley.
Alpine highline projects are always really exhausting but you always look back to them with great memories. They are simply worth the effort. Watching the pictures and videos after the project leaves you with a smile. We are happy to be able to share a little part of it with you. But if you really want to have the feelings we've had during the project, you gotta rig your own alpine highlines 😉
Written By: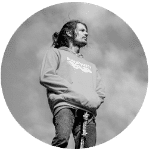 SLACKTIVITY Slacklines co-founder, managing partner and team athlete, Samuel Volery olds multiple highline world records (1900m – September 2019) and has a spectacular and versatile style when performing highline-shows.