Figure-8 knots are sometimes being used as backup knots in highline rigs. Basically every highliner knows how to tie a figure-8 and therefore the probability of human flaw is minimized. Additionally, it is easy to adjust in length and therefore the backup can be tied in exactly the right length needed. But is the knot strong enough for this purpose? We will not answer this question here but simply present the Breaking Strength test results of Figure-8 Knots in Slackline Webbings.
Our focus was to have a look at how differently tied Figure-8 Knots in Slackline Webbings perform. How important is it to tie your figure-8 nicely?
And the second focus was on the comparison of different slackline webbings. We have compared Nylon (Polyamide) and Polyester webbings. Flat and tubular ones. 20 and 25mm wide ones. Or to name the webbings: We have compared pinkTube to halfMarathon, whiteLightning, redTube, Green-T20 and also heavily used pinkTube (1 year of permanent use).
We have tied 3 figure-8 of each configuration and have always calculated the according minimum breaking strength (MBS). So all the numbers you can see here, are MBS-values. As 100% of the breaking strength we have taken the result of the webbing tearing apart in a seaHorse. If you're wondering why some of the values are slightly different from those presented on our page: Sometimes a different batch of webbing has a slightly different breaking strength. And for the figure-8 tests we have simply taken some leftover-webbings which were not necessarily of the newest batch.
In the following pictures and table you can see a comparison of the differently tied figure-8 knots. All were tested with new pinkTube webbing:
| | | | | | |
| --- | --- | --- | --- | --- | --- |
| Webbing: | pinkTube | | | | |
| Knot-Type: | seaHorse | Nice Out | Nice In | 90° bent | Ugly |
| MBS: | 25.8kN | 20.2kN | 18.6kN | 16.7kN | 13.1kN |
| Relative Strength: | 100% | 78% | 72% | 65% | 51% |
These results clearly show the importance of tying a nice and clean figure-8 knot. Also it shows that if the loaded strand is going for an outer bend, this will lead to the strongest possible figure-8 configuration.
pinkTube


1 yr old pT


redTube


halfMara


Green 20


WhiteLightning
seaHorse
Fig-8
seaHorse
Fig-8
seaHorse
Fig-8
seaHorse
Fig-8
seaHorse
Fig-8
seaHorse
Fig-8
25.8kN
20.2kN
14.9kN
12.0kN
37.4kN
28.1kN
26.0kN
16.7kN
17.6kN
13.3kN
18.1kN
12.9kN
100%
78%
100%
80%
100%
75%
100%
64%
100%
76%
100%
70%
When comparing different slackline webbings the results are a bit less clear. But it looks like polyester webbings perform less good in figure-8 knots compared to nylon webbings.
Take home message: In case you use a figure-8 knot to back up your highline, tie it nicely! And ideally with the loaded strand going for an outer bend.
Written By: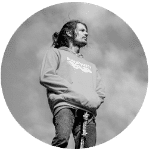 SLACKTIVITY Slacklines co-founder, managing partner and team athlete, Samuel Volery olds multiple highline world records (1900m – September 2019) and has a spectacular and versatile style when performing highline-shows.